The brand new Norwegian Encore is the latest in the Breakaway Plus class cruise ship by Norwegian Cruise Line. For those who know me, they already know that Norwegian Cruise Line is my favorite cruise line to cruise on. I love Norwegian because the entry price point is amazing which allows all travelers regardless of their income whether it is limited or unlimited to go and enjoy the ship. The entertainment onboard is some of the best onboard entertainment I have experienced at sea and I am especially a huge fan of their headline show – Kinky Boots!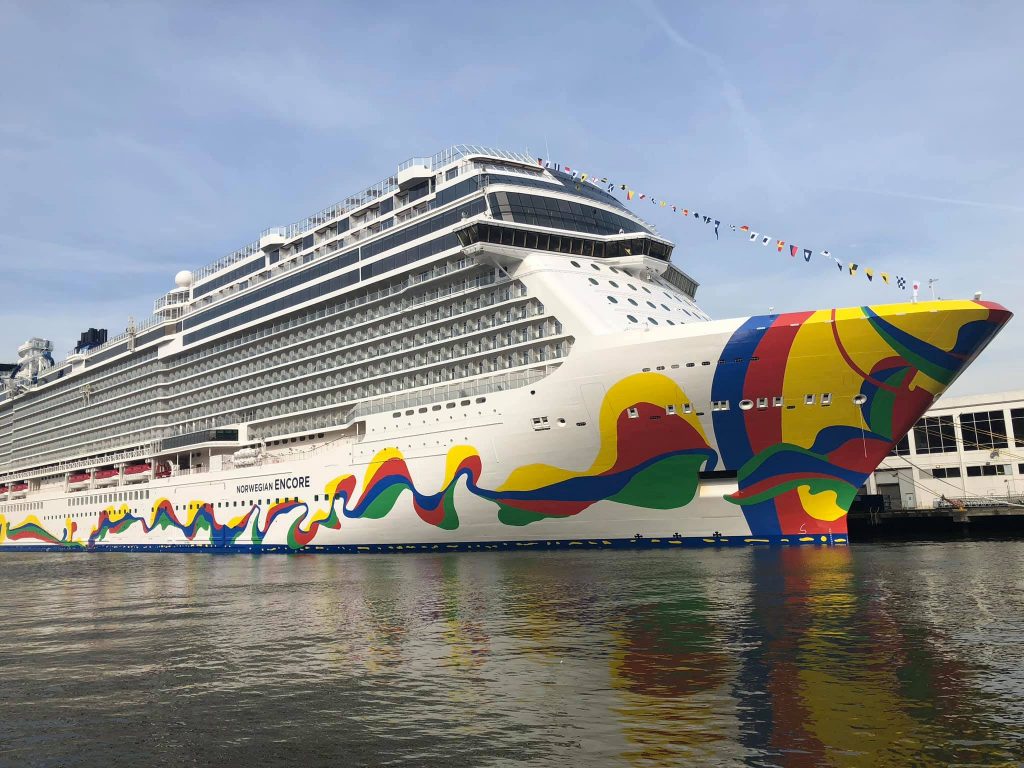 On November 11, 2019, I had a unique opportunity to experience the Norwegian Encore while it was Docked in New York City for two days. I was able to see and experience all she has to offer from the shows to the largest racetrack at sea I have explored every nook and cranny of this beautiful new ship.
Largest Race Track at Sea
One of my favorite experiences on board the Norwegian Encore is the Go-Karts at sea! The Norwegian Encore Raceway is something unique for sure where you can go zipping across the top deck on a real electric go-kart. I took some photos below so you can check them out. The video above is an actual live photo I took so you can see that the go-karts actually go the real speed as when on land in racetracks like RPM Raceway and etc. For those wondering about dirty helmets, they give you fresh clean head socks to ensure your head is kept clean.
Headline Show – Kinky Boots
I always enjoy a good broadway show and with Norwegian Bliss where I was able to watch the Jersey Boys on board as well as sit directly in front of Frankie Valle, it always makes it an unforgettable experience. One of the shows I have not yet seen was Kinky Boots in New York, however, when I heard it was going to be on the Norwegian Encore I was ecstatic! Of course, videos are not permitted, so I took a live photo… I will not ruin the show for you but it surprised me and it surely was one of my favorite shows. This is one show that is not to be missed!
Virtual Reality at Sea – Galaxy Pavillion
I always thought that VR was a bit of a fad and was not going to survive because the experience is always weak and you can tell it wasnt real. I reluctantly went into the Galaxy Pavillion to check it out and was I surprised! I truly enjoyed the Galaxy Pavillion with th e multitude of games, simulators and rides! Of course these games arent included, however for $60 you can get 18 rides or games in the Galaxy Pavillion and that is going to be awesome for any family.
Silent Disco at sea?
Silent discos seem to have taken the world by storm and Norwegian is never one to not take trends and make it awesome. They converted the social at night to a Silent Disco where the DJ will play 4 different sets of music from all different genres and you can pick your own. It is almost like going to 4 different night clubs by just clicking a button or walking to a different corner. Silent Discos are always more fun when you are not listening to music and people-watching in my opinion. (see video on the right)
Night Club after the Silent Disco
After the silent disco ends, the social converts into a full night club where they play the top 40 music and popular reggae, hip hop, R&B, and reggaeton. If you know me, you know I always enjoy a good party and there is no better party than with great people from my industry! When you go onboard the Norwegian Encore you will be able to party until the sunrises because the nightlife is until late!
And there is so much more!
There is really too much about the ship I just cannot explain or detail from one post. Please feel free to reach out to me to learn more about the ship. If you have any questions or need help with planning your next Norwegian Cruise please do not hesitate to contact me via Social Media or the Contact Me form above!
With that said I want to leave everyone off with some awesome photos of the ship to give you a better idea. Please be advised these photos are not mine and are directly from Norwegian Cruise Line and may be restricted for use due to copyright.