If you have not yet heard, as of October 1, 2020, all travelers who wish to travel on domestic flights will need a Real ID-compliant license if they wish to fly within the United States. If you do not have a Real ID-compliant license, you may always fly with your passport or a federal ID such as the Global Entry ID Card.
This change is due to the Real ID Act, which was passed after the events that took place on September 11, 2001. The goal of the Real ID Act is to make it more difficult to forge identification documents, and while most states already issue Real ID Compliant documents, it does not mean you have one. The process of acquiring a Real ID is a bit more in-depth and requires additional documentation than a standard state-issued ID. I will be going through the process for New York Residents. However, this process will be accurate for you as well regardless of the state you reside in (the picture on your card may vary)
I have TSA PreCheck, Do I need a Real ID
I am here to burst your bubble, while TSA PreCheck is a program offered by the TSA, it is not a Real ID Compliant document and you will not be able to fly domestically or enter a federal building.
How do I know if I have a compliant Real ID?
To see if you have a Real ID look for the Star or the word "enhanced." Please see the diagram below. If your ID does not have a star or the word "enhanced," you do not have a compliant Real ID, and you have a standard ID. If you renewed your ID after October 1, 2017, and you do not have a Real ID, you will see the words "Not For Federal Purposes" on the top right. If you renewed before October 1, 2017, the top right would be blank.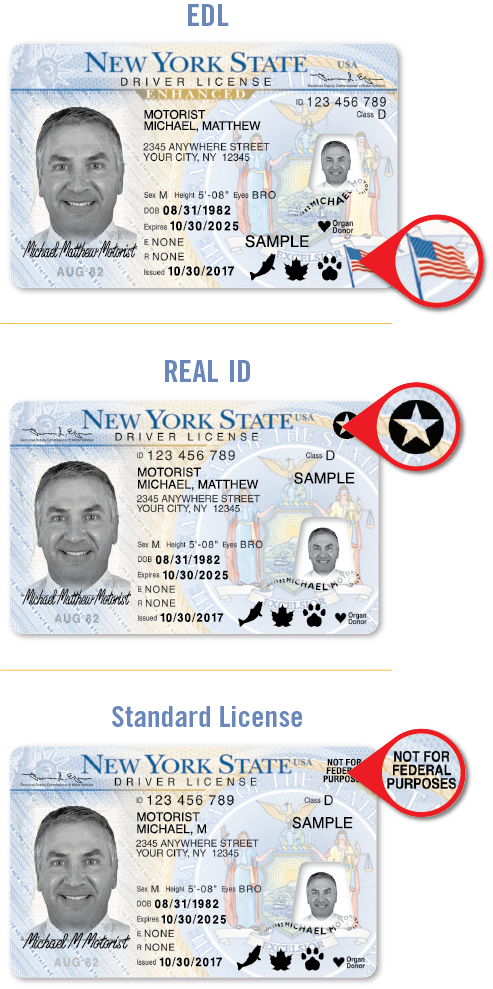 How do I get a Real ID in the state of New York?
New York State DMV started issuing Real ID Licenses, Permits and ID Cards as of October 30 2017 to begin getting travelers ready to get their Real ID documents by 2020. To get your Real ID Document or to upgrade your Drivers License / Identification Card to a Real ID, visit your local DMV.
You MUST bring to the DMV office with you original or certified proof documents:
Proof of identities, such as valid license, birth certificate, or passport, with your full first, middle (if applicable), and last name. This name, as it appears on your proof of identity, will be displayed on your card as required by federal law.
Proof of Social Security Number or Social Security Number ineligibility. If you have a valid NY license, permit or ID card, you must bring your original social security card or W-2 with full SSN. If you do not have a New York State driver license or identification card, you must bring your Social Security Card or a letter from the Social Security Administration proving your ineligibility to have a social security number. If you lost your Social Security Card, you must get a duplicate before you come to the DMV. The Social Security Administration website has more information on obtaining a duplicate card.
Proof of your date of birth.
Proof of U.S. citizenship, lawful permanent residency or temporary lawful status in the U.S.
Two different proofs of New York State residence such as utility bill, bank statement or mortgage statement (P.O. Box not acceptable). This address will be displayed on your card.
If the name on your license, permit, or non-driver ID application does not match the name on your identity, lawful status, and social security proofs you must bring in court or government-issued proof(s) documenting the event(s) causing your name change(s) such as a marriage license(s), divorce decree(s), adoption, or court order document(s).
How much will a Real ID cost me?
Believe it or not, there is no additional cost to get a Real ID. However, if you wish to get an Enhanced Drivers License or Enhanced Identification Card, there is an additional $30 fee to the renewal or registration.
What is TSA approved documents as of October 2020?
Domestic Flights Only + Federal Buildings
State-issued Enhanced Driver's License / Identification Card
State-issued Real ID Driver's License / Identification Card
U.S. passport book
U.S. passport card
DHS trusted traveler card (Global Entry, NEXUS, SENTRI, FAST)
Permanent resident card
U.S. Department of Defense ID
Federally recognized, tribal-issued photo ID
HSPD-12 PIV card
Foreign government-issued passport
Canadian provincial driver's license or Indian and Northern Affairs Canada card
Transportation worker identification credential
U.S. Citizenship and Immigration Services Employment Authorization Card (I-766)
U.S. Merchant Mariner Credential
International & Domestic Flights + Federal Buildings