Biometric Terminal and Boarding in the United States and how it works
Airlines are always looking to speed up the boarding process to ensure the plane departs on time using new technology. One of the latest technology that is being used in the United States is Biometrics at boarding and the terminals. As of the date of this post, currently, American Airlines, Delta Airlines, and JetBlue now use Biometric boarding for select international flights from the United States.
Delta Airlines pioneered the biometrics boarding in Atlanta (ATL), New York (JFK), Detroit (DTW) and Washington D.C. (DCA). Delta, in addition, has also opened the first biometric terminal in the United States, located in Atlanta's International Terminal.
American Airlines has also completed it's biometric boarding pilot program at Los Angeles (LAX) Terminal 4 and is now evaluating its potential expansion to more flights and locations throughout its network.
JetBlue currently offers full biometric boarding gates for some international flights from New York (JFK) and have trial programs running at Boston (BOS), Fort Lauderdale (FLL) and Washington D.C. (DCA). The airline plans to expand the biometric boarding program to include more flights by 2020, including a biometric bag drop station at JFK.
How does it work?
Upon arriving at the airport to check-in, you will be given the option to take a facial recognition photograph that is encrypted and sent via secure Customs and Border Protection channels to verify against the flight manifest that was sent to CBP by the airlines. This process generally takes less than 15 seconds and your face becomes your ID as well as a boarding pass.
Whenever you pass through any checkpoint that requires you to show your ID or boarding pass, you can look at the camera and it will verify with the encrypted CBP system and verify your identity and boarding pass, this process happens in seconds. Once confirmed, the machine will indicate a checkmark and you can proceed and you are on your way past the checkpoint!
Benefits of Biometric Boarding
The main advantage of biometric boarding to passengers is that it is quicker and more secure. Delta's initial trials showed that facial recognition saved up to 9 minutes per flight. As facial recognition algorithms improve and customers become more acquainted with biometric boarding, the process will only become faster. Biometric boarding is also more comfortable for larger families or groups as you will no longer need to search for your boarding passes or have your passport open. The chance of boarding mistakes will also be decreased with Biometrics as it removes the possibility of human error.
Who has my photo, and is it secure?
Facial Recognition images are encrypted and stored only in the secure CBP and the Department of Homeland Security (DHS) systems for a brief period. The photos are stored in a secure cloud environment for comparison against the traveler's historical photos. The airlines and airport authorities are not permitted to retain any images taken with this system for their business purposes. CBP discards pictures within 12 hours, and non-U.S. citizens' photos will be saved in a Department of Homeland Security database for up to 75 years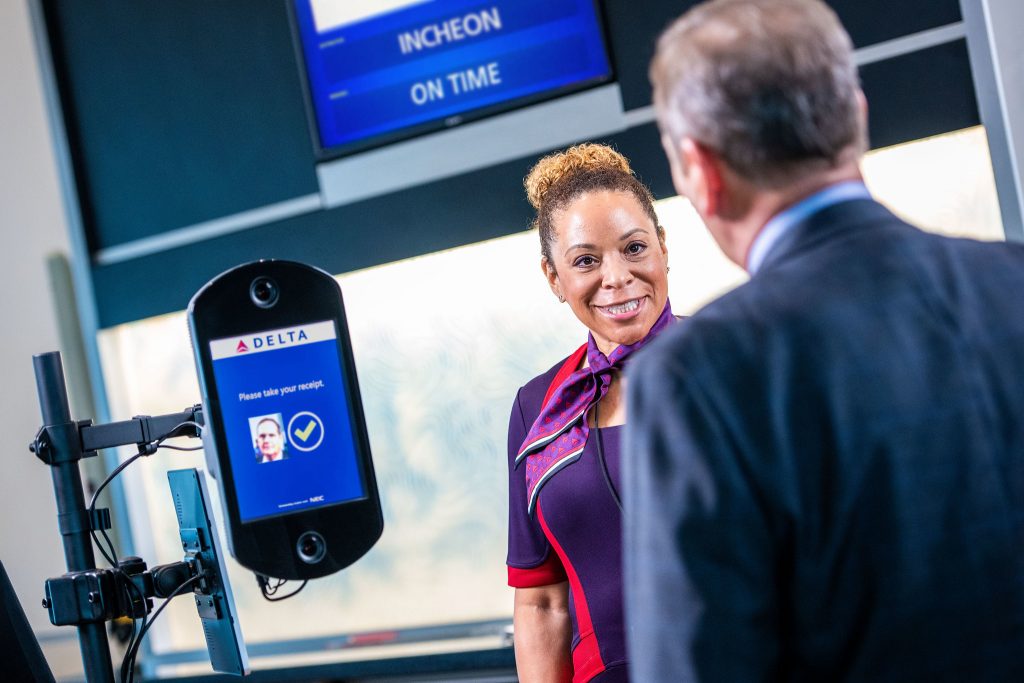 Concerns with Biometrics
Biometric Boarding and terminals have been a concern for some travelers as they do not want their photo taken. However, currently, Biometrics is only available for international flights and a passport is always required to board those flights. You can opt-out of using biometrics on your next flight by avoiding the cameras and ask the boarding agents to process you manually. However, keep in mind that the CBP already has your photo in their system from your passport as that photo was sent to them to create your passport and is sent to CBP each time you board a flight. So in theory, if you do not want your photo taken…. The CBP already has it.
My thoughts on Biometrics
I had the opportunity to use Biometric Boarding at JFK's Terminal 4 on my recent international flights, and I must say that I am impressed with the technology. I know that many travelers are always concerned about how your photo is being used but we have to keep in mind that these days, the moment we step into an airport, our photos have already been taken and we are being watched every step we make. I personally do not have any issues with taking a biometrics photo since it is held by CBP and DHS who already have many photos from me as I have CLEAR, Global Entry, NEXUS, and SENTRI, it just doesn't make sense to say no to this one additional photo. With that said, I am excited about the technology and cannot wait to see where it takes us next! Leave your comment below and let me know what you think.